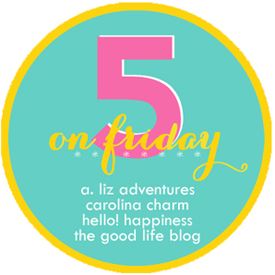 Friday, don't we all love Fridays? In an effort to keep blogging more I am doing a link up. 5 on Friday. Let me know if you decide to do it too, I would love to read about your 5.
1. Hubs and I are going to visit friends over the weekend. We are going a few hours south to Charleston, WV. We are only going for one night but it will still be fun to just get away from our to do list, our cleaning list and just breath.
2. We are less than 60 days from closing on our first home. Remember you can follow me on Instagram #Mfamilymove (
http://instagram.com/p/bMG6WoRrxZ/
) - we haven't been over this week to check on the progress. It seems that things have really started to move slower because it is the much more detailed work. However, the daily delivery of boxes full of new bedding, curtains, house decor still leaves me happy.
3. Running has worked out great this week! We beat the bad storms by seconds, got a small break from the humidity and I got to play with my new toy. It was nice trying to keep my heart rate in the
zone
and keep my heart rate in check, it really did make pacing myself easier and I wasn't
as
exhausted at the end.
4. We booked our trip to St. Maarten!!! We leave Mid December. I have a countdown ap on my phone. The first thing I am counting down is our one year anniversary. (8/4) Next, our house then I am putting our vacation date in there. We have already secured care for our fur babies, started the passport paper work ( I have to get another one since I changed my name) and I am mentally packed! While I am sad that my BFF is moving there for awhile I can NOT wait to visit her!
5. Some really big an awesome changes could be going on with the Hubs job, if you could could you us in your thoughts/prayers. He works extremely hard, busted his rump through Grad School (Mr 4.0) and is so dedicated to his career, he deserves every bit of the good things
possibly
coming!